Stylist Anna Richardson
I am thoroughly in love with the January issue of Livingetc. It's fabulous and was thoroughly worth the (gulp) $15 that I paid for it at the train station. At first glance I thought it would be rather uninspiring as it appeared quite thin and for that amount of money, I want something that I'll refer to again and again versus a quick one flip. This is what my morning looked like, candles are a must this time of year as it is so cold and gray.
When it comes to design glossies I'm happy to say, size does not always matter! This slim issue is loaded with inspiration... from a fun apartment in Cologne to an eclectic home in England and a gorgeous Copenhagen flat -- I felt connected mainly since a few are rentals and let's face it, with a rental home one is limited so more creativity is required to make a house a home. I believe that the space I'm sharing below is owned, but still... I loved the color scheme so much -- bright and punchy - that I must share it.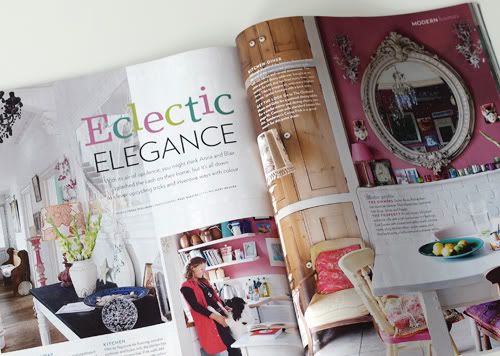 Above is a glimpse into the whimsical East Sussex coastal home of stylist Anna Richardson and her singer/songwriter man Blair Mackichan who has worked with music giants like Lily Allen. This home was photographed by Paul Raeside and styled by Mary Weaver from Livingetc magazine who is also an editor at the magazine. Paul is an amazing interiors and lifestyle photographer based in New York with an impressive portfolio online that you can view here.  You can view Anna's gorgeous home on the Livingetc. website here. Enjoy!
(images: holly becker for decor8)