EQ3: Super Affordable Furniture
Affordable and stylish? Can this be real? I can't believe I haven't blogged about EQ3 sooner. I first found out about them 6 months ago while at Jordan's in Reading, MA. They have an entire section devoted to EQ3 and I was blown away by the styles and prices of this very posh looking collection of furniture. All the sofas are priced around $800 and some of their coffee tables are under $150. Beds with headboards only $350. They also carry bedding, accessories, and lighting.
The
Matrioshka dolls
for $15 are extremely cute for those of you who collect nesting dolls.
And the best part, none of it looked cheap or throw away. The sofas were comfy and I like all the color choices and clean European lines with lots of lacquered pieces and chrome. I walked away from EQ3 thinking that the line was exclusive to Jordan's furniture, but a reader recently told me that they have a website, and it was there that I noticed they have stores popping up all over America, in fact they've just opened two in Phoenix, AZ and Norfolk, VA. Other locations can be found in the San Francisco Bay Area, Los Angeles, Grand Rapids, Richmond, Charlotte and are also available in over 300 in-store galleries across North America, Latin America, Europe and Asia.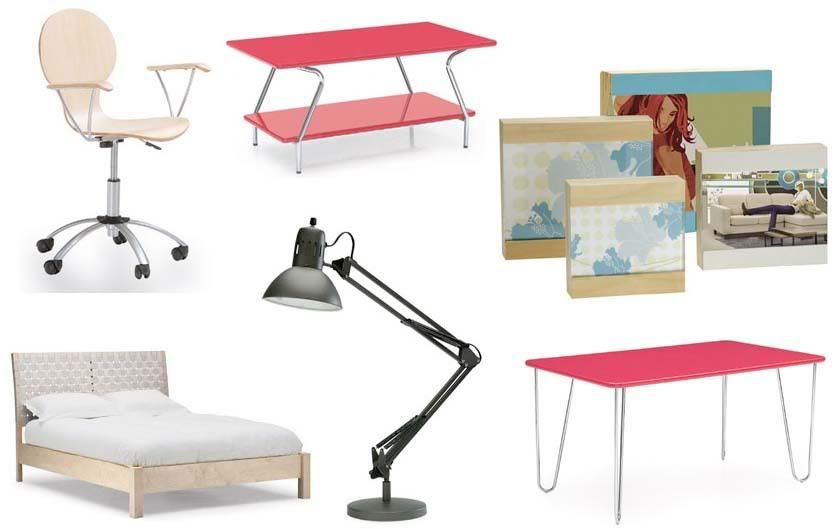 I love this floor lamp in white, called the
Sprocket
- and it's only $45! Yes, really.
Very
Anglepoise
on a budget.
All of their bedding is priced around $85.
In the MA/NH area, you can find them at Jordan's Furniture. Anyone have experience with EQ3? I'd love to hear from you! Please comment below.
(images from eq3)