How Much For This Room?
Calgary-based interior decorator, artist, and photographer Lori Andrews, aka the 10-Cent Designer, is back with How Much For This Room? to take us into a welcoming client space, Jill, to break down and list each item with a grand total at the end. Jill's condo looks phenomenal.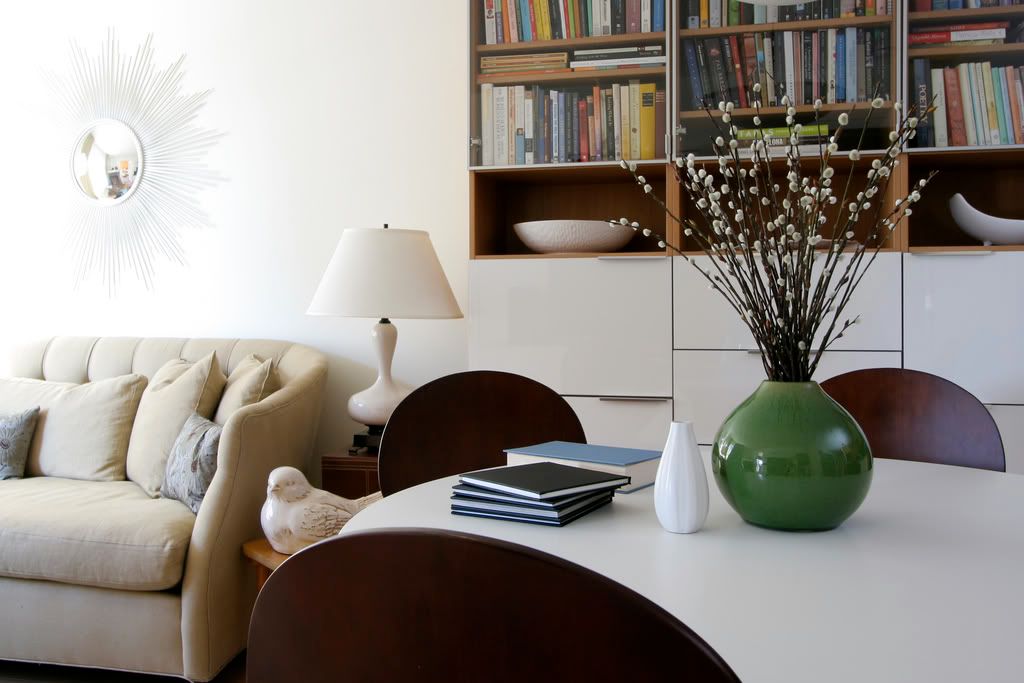 Lori says, "Jill initially hired me for a 2 hour consultation for her 1 bedroom condo. I surprised her by recommending she buy all new furniture. We have continued to work together where required. The client is on a budget so she completes the plan we came up with piece by piece. er next order of business is a fabulous new light fixture for above the dining table and new white granite countertops in the kitchen."
Before scrolling down, I invite you to view Jill's apartment before (link).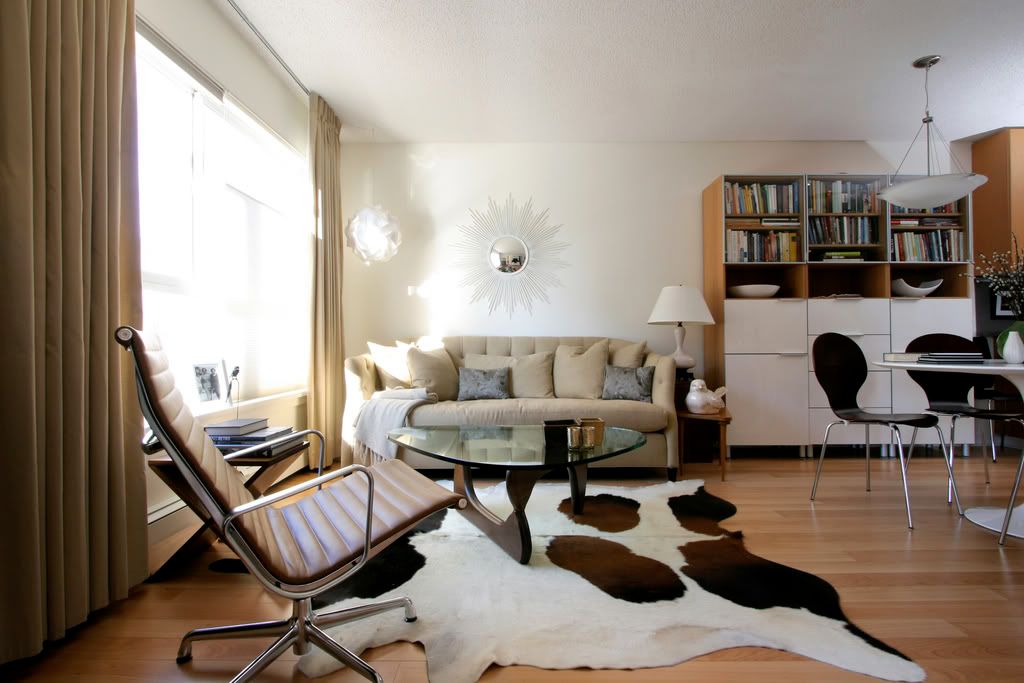 (1)IKEA Besta low cabinet (for TV) $380. (2) IKEA Besta beech shelf units, Besta Norum high gloss white doors, IKEA CD/DVD upper storage unit, $250. (3) Dining area, IKEA Besta beech shelf units, Besta Norum high gloss white doors $730. (4) Flooring, laminate $6000. for apartment including install. (5) Professional painter, $750 for living/dining areas, Mascarpone by Benjamin Moore. (6) Levelor blinds on windows, $500 from Home Depot. (7) Linen Drapes, $660 custom (8) Luccia Sofa (by Cisco) $2400 on sale at Country Furniture. (9) Cowhide $350 Buckskin leather. (10) Star Burst Mirror $325 from Global Views. (11) Ceramic bird white $45 Chintz and Company. (12) Red Buddha head $30 at Appeal. (13) Clock $75 Home Evolution, (14) Brownie Camera moms (15) Metal letter M $20 Anthropologie. (16) Modern hanging lamp $120 The Ground Up Design. (17) Walnut Side table $90 Umbra. (18) Brown Leather boxes $30 Home Sense. (19) Large white bowl $20 Home Sense. (20) White leaf platter $15 Indigo. (21) white scoop bowl $60. (22) small white vase $7 IKEA. (23) green vase $20 Sunnyside Garden Center. (24) Plasma TV, Arcan tuner DVD and rainmaker speakers $5,700 K&W Audio. (25) silver candlesticks $200. (26) black stone bowl $120. (27) cashmere throw blanket $200 Chintz and Company. (28) custom silk throw pillows $350 Lori Andrews Interiors. (29) small wooden vessel on coffee table $60 Country Furniture. (30) small ornate glass candleholder on coffee table $20. (31) small gold vase on coffee table $7. (32) Isamu Noguchi coffee table $1,195 Kit Interior. (32) Saarinen tulip table $1,700 Kit Interior. (33) Eames Aluminum Leather lounge chair $1,800 Kit Interior. (34) Dining chairs $35 each from the now defunct Caban. (35) Table Lamp with linen shade $250 Robinson Lighting & Bath.
Grand total for living/dining space =$24,619.00 (so far)
Lori Andrews Interiors happily provides hourly online design consultations. For more information email lori AT loriandrewsinteriors.com
What do you think? Any questions for Lori?
(photography: lori andrews)