Me And Alice Blog
The Me And Alice blog is so charming with a lovely country home as the focus, located in Dalarna, Sweden. The homeowner is Susanne, a talented stylist and writer who infuses her home with many clever ideas that, whether Swedish Country is your style or not, you can still find some great ideas from some of these photos below because many of them can cross over and be applied in a home that looks very different - be it mid century or a modern ranch. If you don't believe me, I think you'll be convinced once you've had time to see for yourself...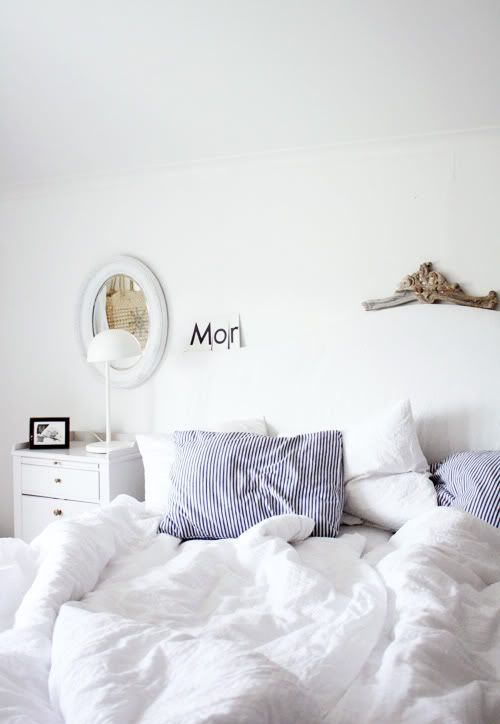 The casual beauty of this scene makes me smile. It's my favorite of the bunch because it feels so inviting and reminds me of the naps I once took (when I had time!) on Sundays after spending the morning on the beach, coming home for a cool shower, and smelling like coconut and salt as I climbed into my bed for a cat nap. I particularly love the stripey pillows, without them it wouldn't be the same photo! I also like the black letters on the wall.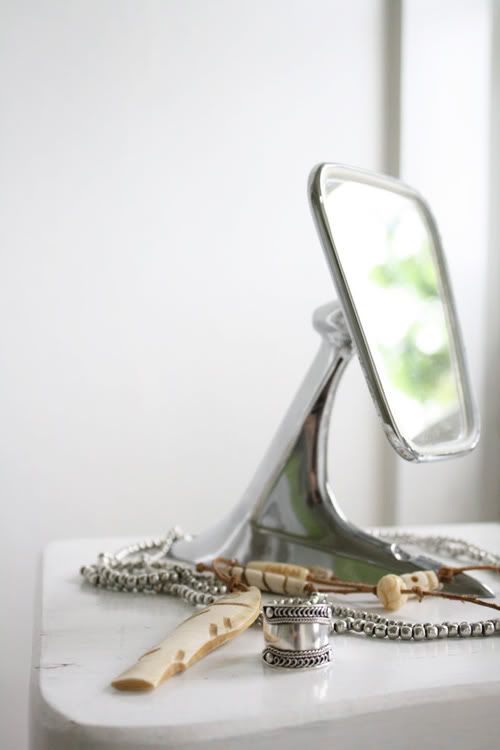 This is a vintage mirror from a car that has been repurposed into a makeup mirror. What a smart great idea for something that would otherwise not be used and abandoned in a junk lot!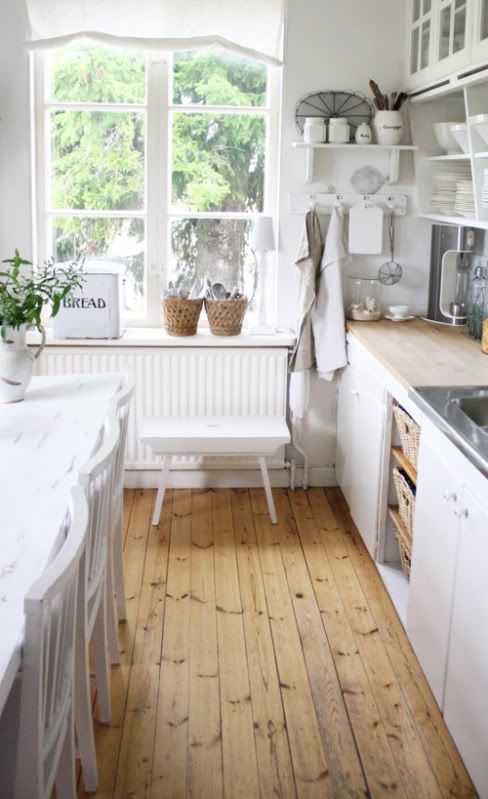 Just look at these floors! I know they are your standard hardwood but look at that color and texture, it really warms up the all white space and how many of us would love to have them!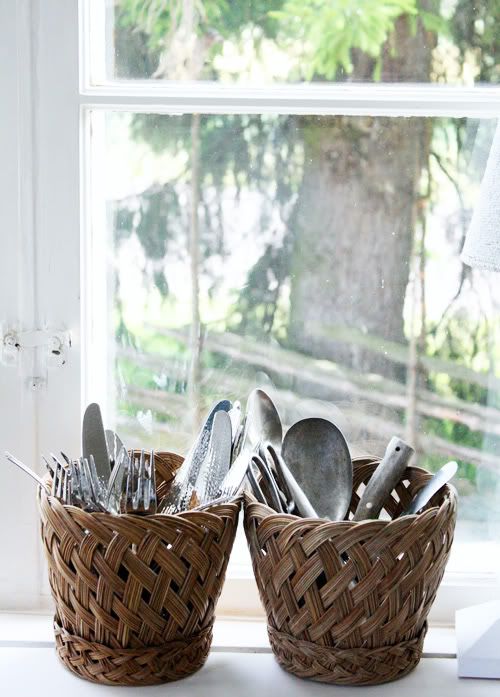 Using baskets to store vintage cutlery is a nice idea. You could do the same with your modern tableware too, especially if you have decided to serve a very casual buffet-style meal at home whether indoors or out.
Lovely storage ideas on this kitchen shelf but mostly I am impressed by the styling - very casual yet there was obviously some thought behind it. This is how I style things and decorate my home, casually but at the same time, you know that I put a little effort into the arrangement. :) I also like how there is a chair that tiptoed its way into the table arrangement, hoping no one would notice he has made himself a guest at the family table. Well, we notice him and I think he looks quite smart there, don't you? I like a little tension in mostly white space, you really need it!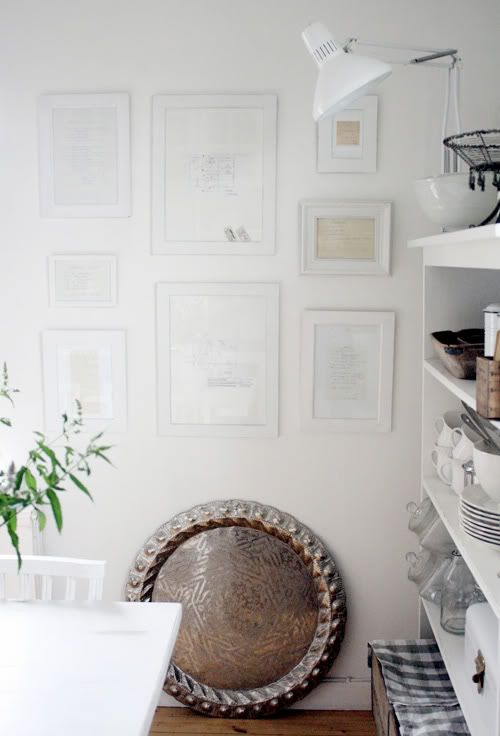 I like the floor plans and various papers that she has framed for this quiet corner. There are many things in this space, but it doesn't feel cluttered because the tones used are mostly white so the eye perceives this as less busy than say, if there were many colors and patterns used.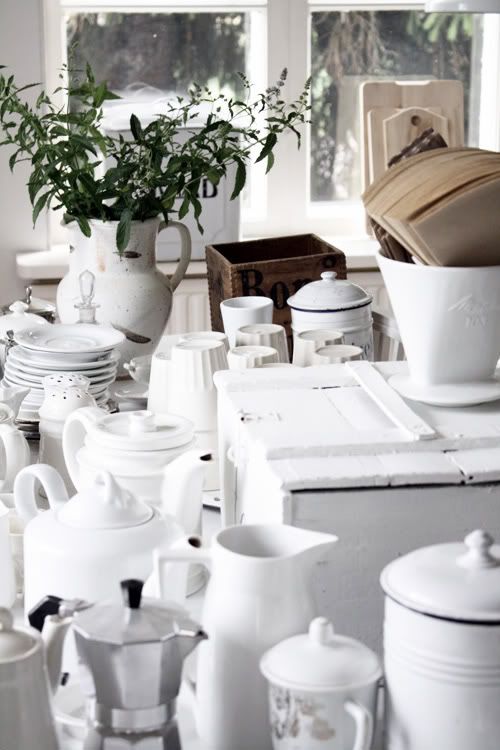 So many goodies here, I spot several nice jugs and jars. I think the mostly white palette is a hard one to stick by, but if you love white and really enjoy living in a space with lots of it, then go for it!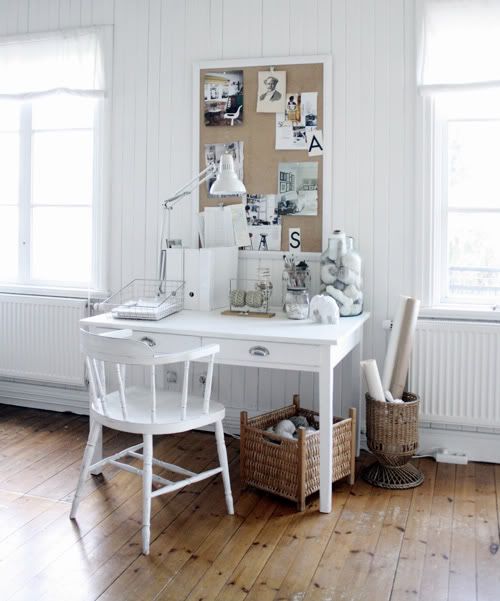 Susanne's writing desk is such an inspirational spot! Storage in glass containers, while nothing new, always looks fresh to me depending on what has been chosen to be on display. From candy to shells, spools of twine to buttons, crayons, and bath soaps... there is no end to what you can collect, store and display! Her yarn basket is lovely on the floor, too.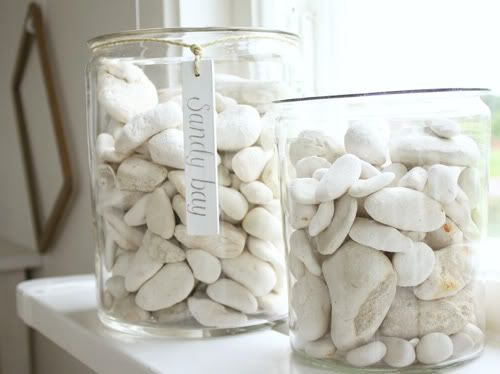 While in Cyprus, Susanne gathered these beautiful stones and has now arranged them in a few glass jars - a simple, inexpensive yet special decoration because no doubt memories of her trip wash over her whenever she sees them. Much nicer than memories of buying stones at some department store and filling jars, right? I think it's important to put some extra thought in the way you decorate your home so that objects tell a more personal story. A jar like this also creates lovely conversation opportunities for when guests have stopped by because when they ask you where you found something that you have on display, you can tell them about your little (and big) adventures.
Any ideas above that you'd like to take away and use in your own space? Which ones? Could you live in a white space? If not, why? If so, do you currently?
(images: me and alice)