Merry + Bright
Hello Friends, it is Leslie here with Color Me Pretty for December. I am really inspired by some of the soft colors used for decorating for the holidays. Hues like aqua, soft lavender, butter yellow and silver. It is a pleasure to experiment with a more subtle hued approach. With the help of a few sparkly ornaments and some candles, I can already feel my holiday spirit being lifted.
Wrapping gifts has always been a real joy for me. I love seeing parcels nicely wrapped and tied with ribbon. I also cannot seem to throw out pieces of nice paper, as I tend to save them all. Lately, I have been into making paper quilts to use as wrapping paper for special friends who enjoy paper like I do.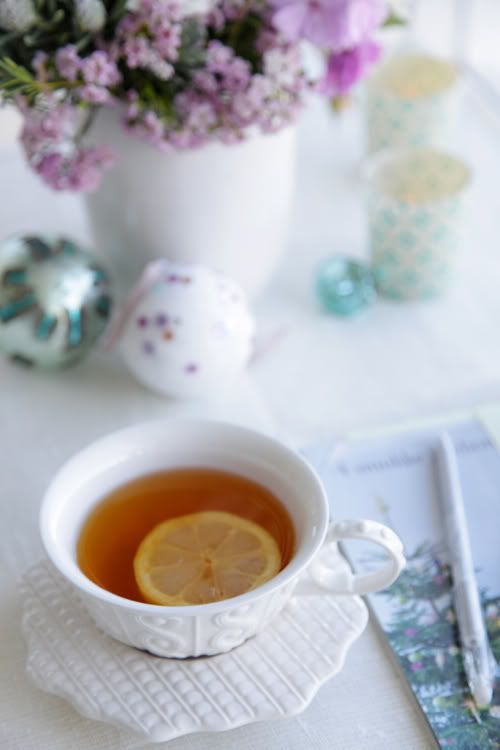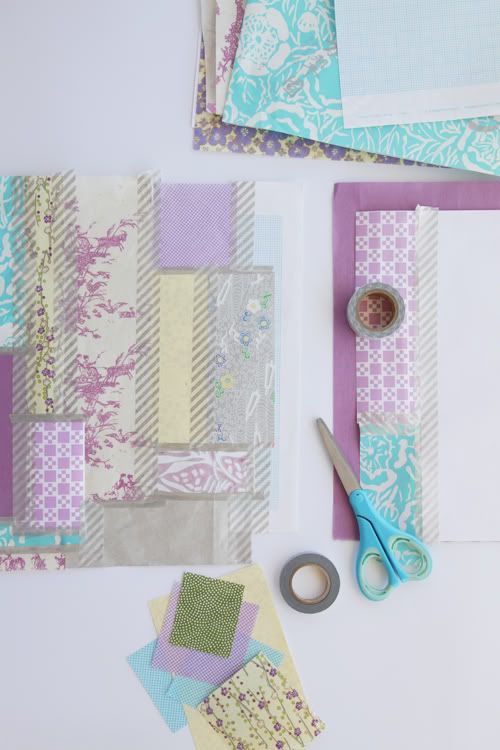 I use tape to quilt together pretty scraps of paper to make a larger piece of paper to then wrap presents with. The process does not take very long and I like the effect after a simple ribbon is added. It is a nice way to use gorgeous bits that may have otherwise gone in the trash.
I had to include this photograph of a special bag I purchased in Amsterdam in October as it has been hanging in my studio and I have been staring at it for some time. You can see how the palette has been influencing me! The bag was made by the hands of Leslie Oschmann an American designer living in Amsterdam who I had the pleasure of meeting. She is a lovely, warm and very talented designer who turns old unwanted paintings into new tote bags. Leslie also breathes new life into chairs and jewelry. You can read more about what she is up to on her website. Some of her bags are also available at Anthropologie.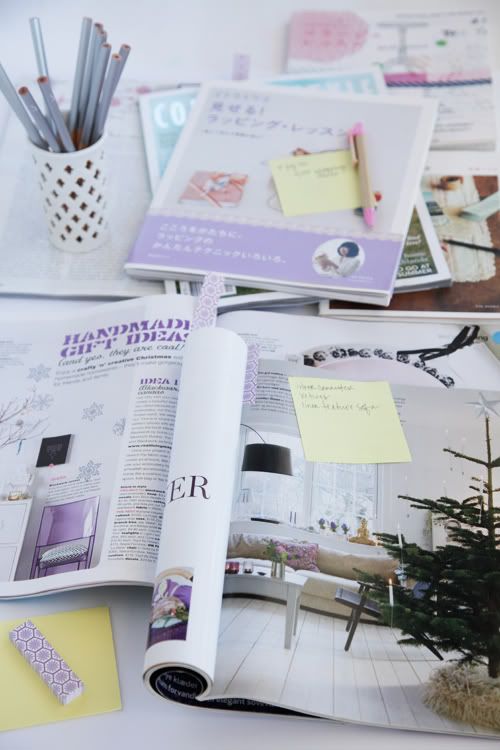 It is my wish for you (and me) to fit in some "slow" moments this season as they help make a hectic holiday routine more manageable.  Create space for a lingering cup of tea, a little time to savor yummy books or magazines, an afternoon for organizing or at least a minute to indulge in the scents of fresh flowers. Whatever holidays you celebrate I hope these last few weeks of 2010 are filled with joy. See you next year and thank you! - Leslie!
(images: leslie shewring)