Pantone Fall 2011
The Pantone color report for fall 2011 looks delightful, doesn't it? These are the top 10 colors for women's fashion which we will no doubt see trickling in to the interior design world. "Designers take a painterly approach to fall 2011 by artfully combining bright colors with staple neutrals, reminiscent of how an artist would construct a stunning work of art," said Leatrice Eiseman, executive director of the Pantone Color Institute. "Much like a painter's masterpiece, there is a certain romance to this season's palette."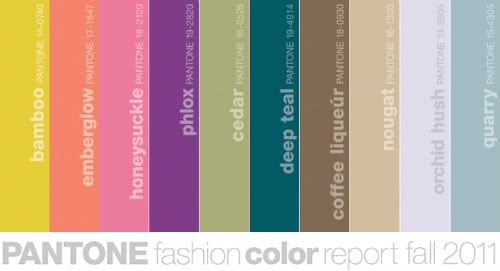 "Taking cues from the great masters, sepia tones of old Hollywood, Chinese opera, cityscapes and countryside, designers are paying close attention to texture, contrast and color for fall 2011 – pairing menswear with feminine twists, warm prints with cool metals, incorporating both old and new influences, and creating an intriguing balance between colors." Sounds lovely to me. I particularly like the inspiration and the combination of warm prints with cool metals, like silver.
I'd like to see Bamboo, Emberglow and Honeysuckle in a living room, a dining room with nougat walls, crisp white trim, and coffee liqueur and orchid hush. A study in deep teal and phlox would be nice and a nursery in cedar and orchid hush would bring comfort.
Any colors you spot above that you'd like to combine and try at home?
(image: pantone)