8 Ideas To Spruce Up Your Space
Does a room in your home depress you? Do you dream of decorating it only to walk in, take a look around, and immediately leave feeling overwhelmed and in need of inspiration? When I crave motivation and ideas I head over to the decor8 Interior Styling group on Flickr which now has over 3,000 members. It's interesting to browse through the hundreds of photos submitted to see what others are currently doing in their home to add personal touches, whether it is something inexpensive and simple like fresh flowers or more elaborate and expensive, like a newly purchased sofa. I also pull magazines and books out and start flipping through them like a mad woman, marking pages and making notes. It never ceases to amaze me how often the little things make such a huge impact on our home. I thought I'd share with you some images that inspire me from the Interior Styling group today along with 8 ways to spruce up your space because these tips really do work and I'd love it if you'd give a few of them a try! No need to feel depressed about an ugly room - you can do it!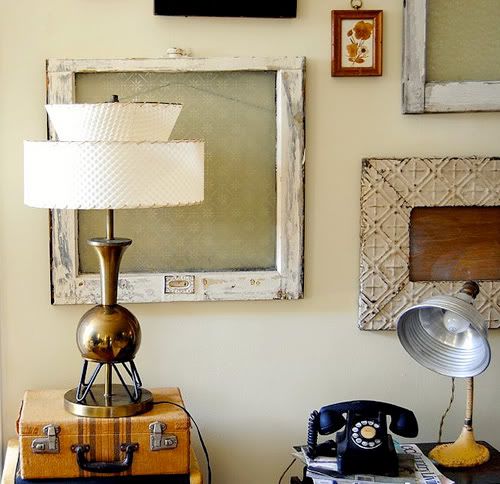 8 Ideas To Spruce Up Your Space
1. Create a mood board using photos of current things (snap photos, print them out) plus a few items you'd like to buy or make yourself. Again, take photos of what you have that could work in your new room scheme vs. focusing on buying all new things. Add everything to your board and give yourself about a week or two to walk by it, edit, add, remove, etc. By the end of the second week you should start to see a cohesive look and feel. Sketch out some room plan ideas and be sure to tack up images from magazines that catch your eye - whether it be how they styled a shelf to the drapes or wall colors that caught your eye. Make note of what you like. Add ribbons, fabric swatches, flowers, things that speak to you. Pay attention to the colors you're responding to and write down thoughts as to how you want the room to look and feel and tack these to your board as well. If you have a stylish friend with great taste, invite them over to give you some ideas as to your room scheme - a second set of eyes is always good.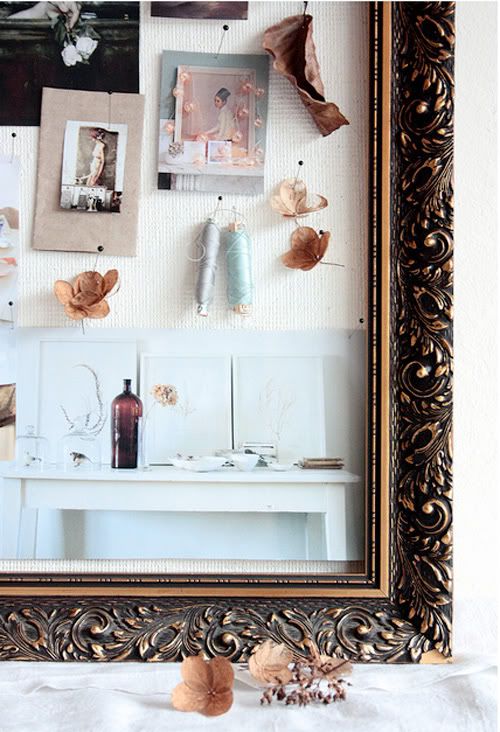 2. Empty the room! That's right, move everything out into the hallway or an adjacent room - take down drapes, remove art, roll up throw rugs, everything that can be removed should be removed. Yes this is drastic and though it's not something I suggest doing every month, it is something that I suggest doing when you find yourself absolutely hating your room and find that no matter what you do to it, you still hate it. Once you have it stripped down to basic walls and floors, you have a brand new canvas to begin with. Start by cleaning the room and then paint it- either the current color (just a freshened up version) or a beautiful white, or perhaps add a few colors - paint one wall in a strong color and keep the others lighter, etc. Wallpaper can also be incorporated. This is a great time to fill holes in walls and make them as good as new.
3. Examine those floors (and ceilings)! Are they in bad condition? Consider refinishing the wood floors or painting them in striking high gloss gray, white or black. If you have carpeting and hate it, consider removing it (if you can). If you can't remove the carpet then clean it well to remove stains and dirt. Don't worry, when you decorate you can set the focal point elsewhere so the rug is barely noticeable. Make any repairs to floors. While you're at it, give all moldings a fresh coat of paint as freshly painted moldings can make your flooring look better. Don't forget to look up! If your ceiling needs attention, make repairs and give it a fresh coat of paint.
4. Thorough clean the room. Get all crazy up in that room and make it sparkle, you fearless decorator, you! Clean windows, flooring, walls, ceiling, corners, all of it. Put on your favorite tunes and get your booty movin'! A clean, fresh palette is the best for decorating.
5. Move only functional pieces back into the room first. Sofa, chairs, TV, things that you actually use and need. I find that by placing the functional pieces first, I have the key pieces in place and "out of the way" so I can play around more with the remaining pieces without performance anxiety. Try to arrange the room around a focal point. If your focal point is your television and you happen to watch it regularly, consider placing it within a wall unit or on a nice cabinet or perhaps against a wall that has beautiful wallpaper or a great paint color. You can also mount the flat screens to the wall, which I think look quite nice. Some add a "TV Cozy" to their television - you can easily make a TV screen slipcover in your favorite fabric OR use plain linen and keep it simple. A black television looks great against a black wall as it will disappear into the wall. If your television is not something you use regularly, consider placing it off to the side and create a new focal point - perhaps a fireplace mantle or a large dresser with drawers with a massive mirror above it or some art or plates. As you bring pieces back into the room examine them carefully - is the upholstery clean? Legs secure? Check out everything to ensure it's in good shape and make repairs/clean as needed. You can even paint a tired table in a fresh new color or reupholster a chair seat in a favorite fabric with often very little - a piece of fabric, some padding and a staple gun. Get creative!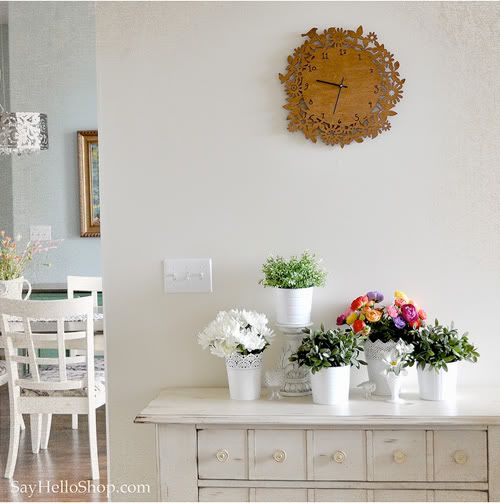 (Holly Brooke Jones)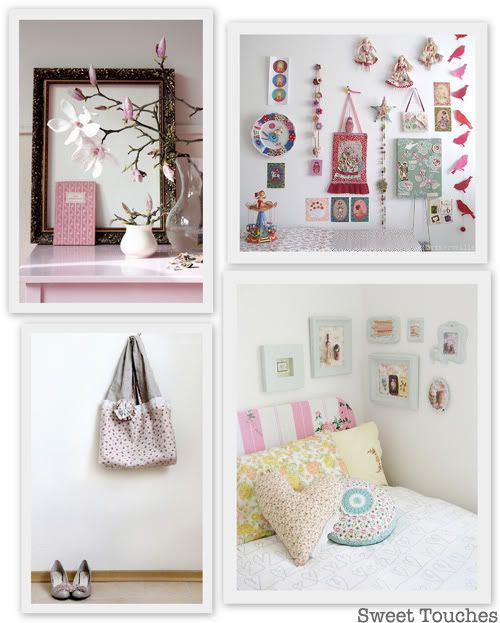 (Machteld M, Marimerveille Loves, Sasya, Dottie Angel)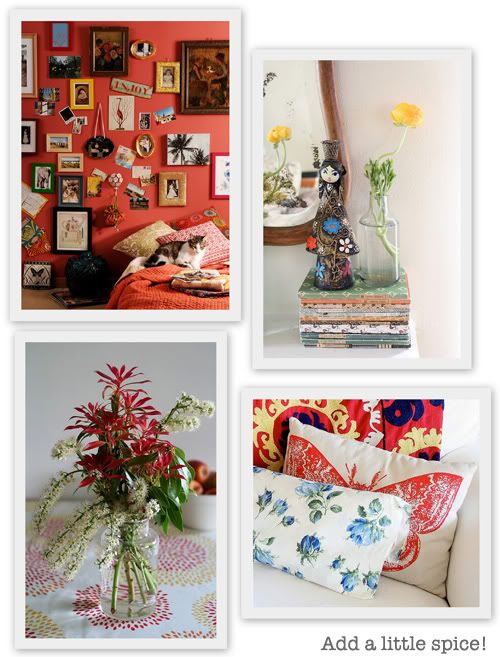 (gozde eker, compaicreative, Saídos da Concha, nest decorating)
6. Less is more! Edit! Organize! Make sure that you don't move everything out of the room only to move it all back in again! No, no, no that's just silly, right!? The goal here is to eliminate what you don't need/like and keep only what you want and/or use and to make repairs and such. Editing is hard work, but your room will love you for it. Clever storage, such as magazine holders that are all in the same color/pattern, can look very clean and modern vs. mismatched holders or none at all. The best tip I have when it comes to organization is to have a place for everything - screws, keys, hammers, nails, tape, notepads, cables, lightbulbs, remote controls, magazines, paper clips, rubber bands, business cards, cleaning supplies - and put things back in their place after use, no excuses!
7. Consider the window treatments. Wash your drapes before you hang them up again and consider adding something to them - perhaps trim or hand embellish with sequins or hand stitch work. Add fancy tie-backs or hem your drapes if they are too long. If you know how why not try adding a blanket stitch edge to them - say in black if your drapes are white, for instance? Little details make a huge difference. If you are tired of your curtains, consider inexpensive blinds from a big box store or make your own. Sheets can double as roman blinds, curtains, you name it. If you have vinyl roller shades you can trim them in a favorite pattern or apply fabric to the shade itself to give them a custom look. There are PLENTY of books out there on how to make window treatments by hand and how to embellish blinds and curtains so have fun. You can even stitch together patches of fabric (fashion fabrics in cotton work best) or vintage scarves, the sky is the limit!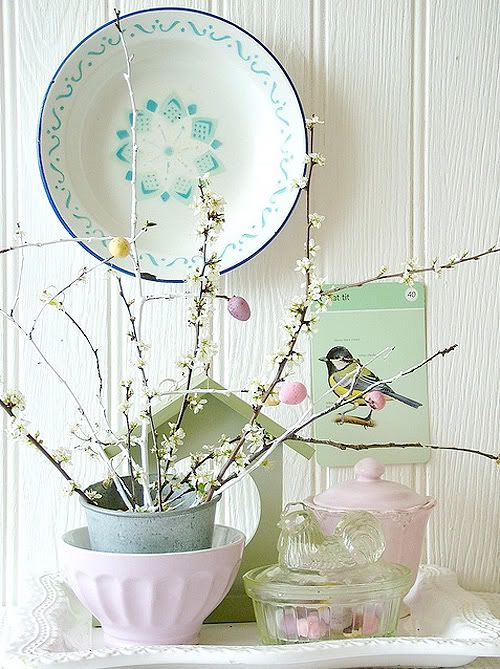 (IDA Interior LifeStyle, Three Red Apples, lusummers, KristopherK)
(jutta, sabine wittig, wood & wool stool, violeta)
8. Style it up! After you have your furniture back in the room, it's time to decorate! When arranging your things (accessories, art, etc.) refer to your mood board and some of the clippings you tore from magazines. Notice arrangements in those rooms and try something similar if you are stuck or feeling uninspired. Add shelving above a sofa to display favorite things. Group art on a single wall. Use a gorgeous mirror above a table as a focal point. Visit a local store that is known for gorgeous visual displays, like Anthropologie or something like it, and be inspired by their arrangements and how simple most of them are. It's really all about looking at things in different ways and intentionally seeking out alternate uses to things in your home that you may be tired of using as is. Have fun - in fact, decorating SHOULD be fun. Your home should be the one place on this planet where you ARE being yourself, sharing your inspirations and life story, adding your personal touch, etc. Enjoy the process!
What are some of your tips for decorating that you'd like to share? What do you do to spruce up YOUR space?
(images linked to their sources above.)