Music To Inspire
Lots of people ask me how to create a mood in the home. It's very, very easy. Turn on some music! In addition to food (cooking makes the home come alive), cozy nooks, lighting, including candlelight, and dimmer switches (a must!), music is another instant way to add a special vibe to your home. Think about it: when you are in a cafe with great music, doesn't it feel better to be there? When you're shopping say, Anthropologie, don't you feel more inspired because of the sounds floating through the air and into your ears? I do. Music sparks imagination and definitely puts me in a better frame of mind if I happen to be in a rather bleh mood.
Lately, I've been listening to these cd's shown on my table above and below. I also found another favorite, a Dutch jazz singer (not shown), who I'm a bit obsessed with at the moment and her name is Caro Emerald and I love her song Night Like This. You can see a video and listen to it here.
In addition to lovely Caro Emerald, these are the tunes I have on rotation in my office linked below. I hope you find some new music in my collection to inspire you at home, on the road, etc. You'll notice half of it is in German. I listen to German music because 1) It's good! and 2) I'm studying the language and it helps me while I'm living here to connect more to the culture and language. If you like diversity in what you listen to, want to be transported to another place, or simply want to brush up on a foreign language I also encourage you to listen to foreign language music or even music in English from different parts of the world like Australia or the UK. It's inspiring to hear what people are being influenced by outside of your home country. I started listening to French pop when I was around 12 years old, thanks to that store Limited Express,  now called Express. Do you remember it had a distinctly French flair at one time? I would buy their French pop music compilations along with my clothes! It was great and I felt very international. For a young girl living in South Carolina at the time, I felt quite international and chic. :)
Shown above: Hurts (great song/video), Charlotte Church (Welsh singer, in English): Watch this video to get a feel for her vibe, Adele, Swedish House Mafia (from Sweden music in English), Pixie Lott (English pop singer) and Katy B (also English pop).
Clueso (German - love his chilled out sounds), Lisa Bassenge (German), Lena (German pop star from Hannover where I live but she sings in English), Frida Gold (German - watch this video to get a feel for what she does, love it!!!), Annett Louisan (German, you must check out her brilliant website, some clippings below - but don't miss THIS VIDEO - interiors eye candy all the way!!!), Anna Depenbusch (German), Sia (from Australia), Chapel Club (from England), Lenka (from Australia).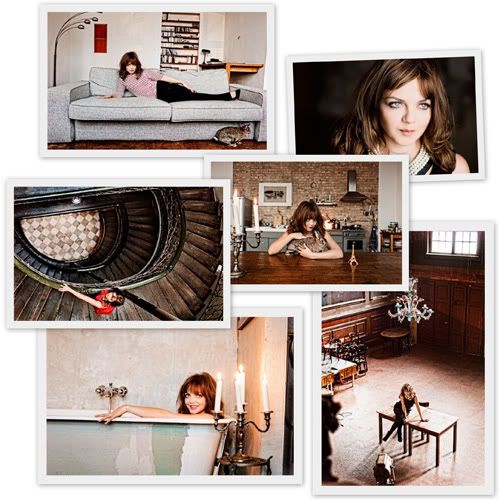 Photos of lovely German singer Annett Louisan who lives in Berlin.
What are you listening to for inspiration lately?
(images: top three: holly becker for decor8 bottom: annett louisan)