An 1850's Converted American Farmhouse
As an American living in Germany, I've noticed that the longer I've lived outside of my home country (it will be two years in August), the more American architecture stands out to me as being, well, really American. I finally "get" what my friends once said to me when they traveled to the states and swooned over every New England style farmhouse that they saw on the way from the airport to my converted circa 1875 carriage house in Hollis, New Hampshire where I lived. And I finally get exactly why they loved my little converted home set on a huge apple orchard complete with a backyard pond. It really was the quintessential New England home but at the time, it was just a cute little house where I lived - I didn't see it as being so charming...
Truth is, New England villages with their farmhouses, carriage houses and dairy farms are quite gorgeous and very, very American and now that I've distanced myself from all of that I do see it as very charming, too.
Then you have the gorgeous farmhouses in New York, especially the as you drive north out of Manhattan and just keep going... the land gets greener and more beautiful with each mile. I'll never forget the summers and winters that I once spent at my friends farmhouse in Granville, New York and also in another small town outside of Lake George, I cannot remember the name of at the moment, but it was so nice there. It's such an amazing part of the country.
It's funny, daily sightings become so mundane to us -- even here as I am surrounded by gorgeous Jugenstil villas and some buildings that are hundreds of years old, I often forget how amazing the local architecture really is. I guess that's why I want to share this 1850's American farmhouse in Rhinebeck, NY submitted to me by photographer Emily Gilbert for Rue today. For one, I felt a wave of nostalgia for the American farmhouse the second I saw it and the second reason is because I know that so many Americans dream of living abroad, especially in Europe, but America has so many beautiful things that you'd eventually miss if you relocated elsewhere so I guess you really have to stop and smell the roses. There is so much beauty just around the corner... Take for example this lovely countryside gem...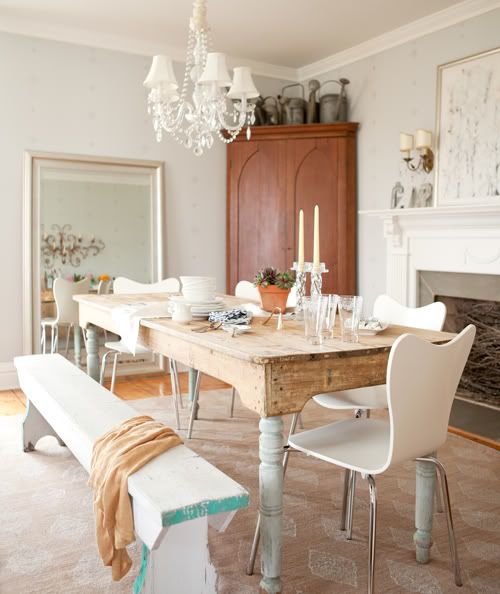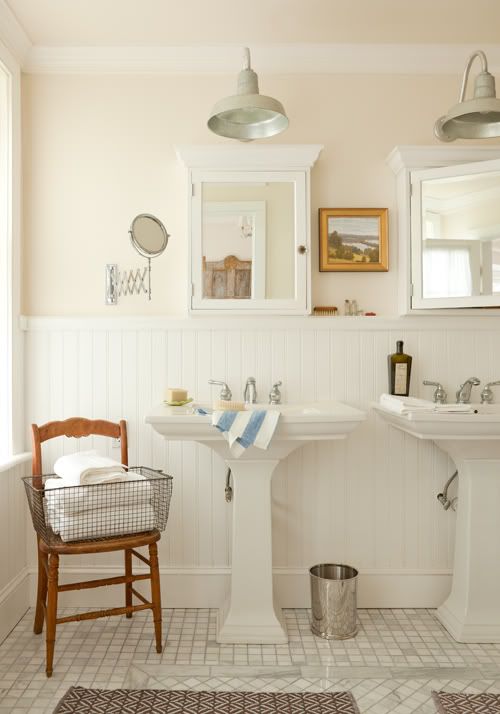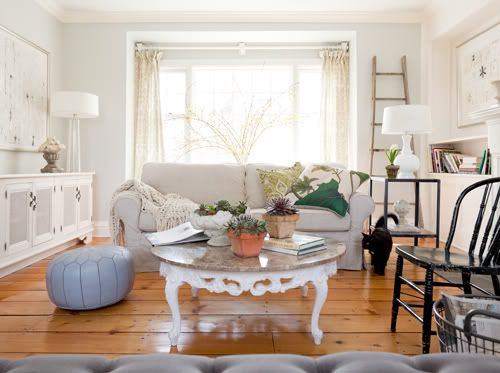 If this house looks familiar to you, it's in the current issue of Rue magazine though they gave me a bunch of extra shots to blog about (thanks, Rue!) because they ran out of space to cover the entire house. I'm so happy that they sent this farmhouse for me to publish on decor8 because I think it's lovely and I really like all of the details inside from the tufted gray chaise to the Madeline Weinrib rug beneath the dining room table, the golden XO stencil detail on the wooden door layered behind the headboard, the adorable dog jumping in to many of the photos (what a little super model!), the painted minty-green legs on the table, the cocktail styling on the credenza complete with a bottle of Bombay Sapphire (a good stylist always uses one bottle of the blue stuff in a shot!) and the basket full of towels in the bathroom -- I love the details and the stylist, Meagan Camp, did such a beautiful job in making this home feel cozy and casual.
About the home: This 160-year farmhouse has only had four families living in it – including the current Camp family -- since it was built. The previous residents raised six children and, "were host to grand parties that have since become local legend," says owner Lisa Camp. Lisa found the home in 1999 but sadly the home was near collapse as it had been inhabited, not by people for several years, but by raccoons, snakes and termites. Still, Lisa had vision and recognized it's potential, especially since, "It reminded me of a house that I grew up in," she explains. Since her husband, Rod, then living in California, left the house-hunting up to her, she chose the run down farmhouse and got to work. For eight months, the Camps and their three children had to live in the guesthouse on the property during construction but in the end, as you can see above in the gorgeous photos, it was worth the short term inconveniences.
What a lovely home! Do you spot any decorating details that you'd like to try at home?
(images: emily gilbert)