Corners of Home: Finland
I have a colorful and fun home to share with you today from Jutta Rikola who is a freelance illustrator, graphic designer and blogger living in Oulu, Finland. Jutta recently had a baby boy and has been homebound for the past year to care for him but is now getting back to work part-time, you can see her portfolio here and check out her blog, Kootut Murut, to see what her style is like.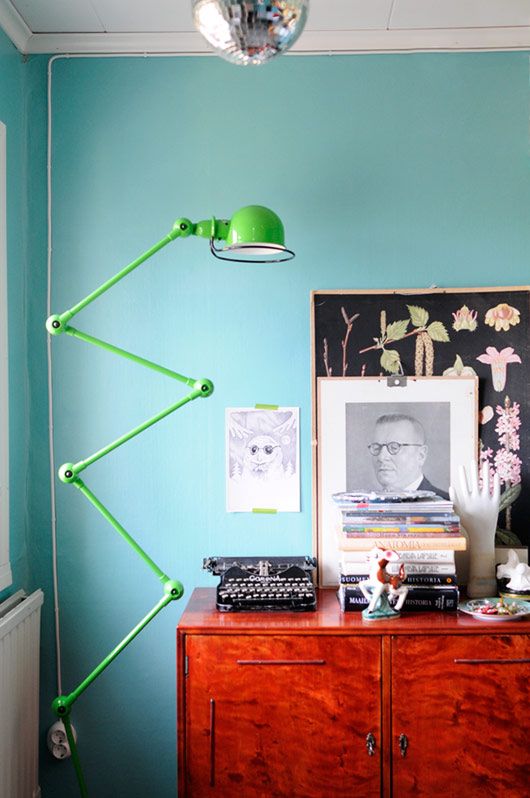 Raised in Oulu where she has been most of her life, Jutta has also been in the US and England for brief stints including a year in London which she said definitely influenced her taste in interior design and adds, "I love old English architecture and the way they use color." Inspired by blogs and magazines, books, friends' homes, thrift stores, and her own home, Jutta says that, "There is inspiration everywhere and I find it hard to concentrate on just one thing. Especially with the baby, time has become a very limited resource, so I've been practicing toning it down." I can relate to her comment, as I'm sure most of you can to because you really must scale back from time to time or else you can feel a bit overwhelmed by all that is out there. As I looked at her home, I thought it would lend a more personal note to this post if I asked her a few questions about her decorating ideas and style, so here is what Jutta had to say to each of my questions below. I wonder how many of her answers you can relate to?
decor8: Where do you begin first when decorating or redecorating a room? Jutta: With the space itself. What are its benefits and limitations? What will it be used for? Also, because I love to use colors and ornate patterns, taking the surrounding rooms into considerations is important. I make sure whatever I'm planning to use matches the surrounding spaces too so there will be a nice flow.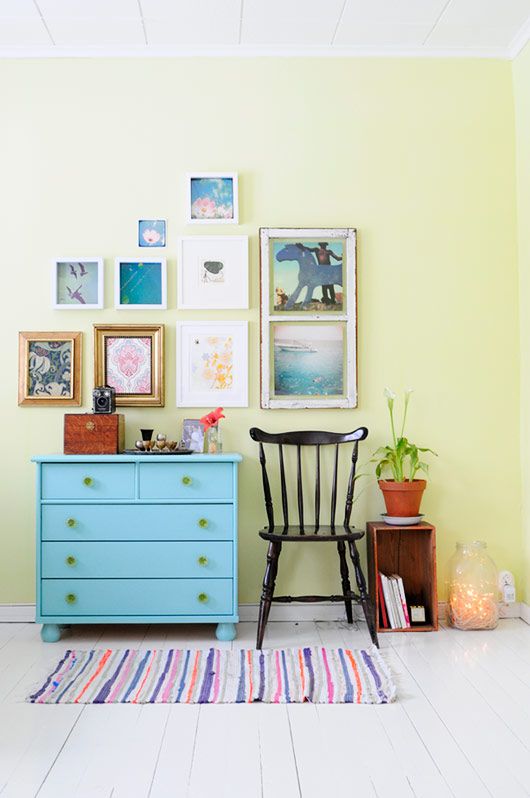 decor8: What do you love the most about your home? Jutta: The original features. Wooden floors, 50's door handles, bumpy walls. Out latest renovation project kitchen, because it was such a struggle to get it done. We wanted to use traditional methods and recycled materials as much as possible. It was hard work, but the outcome is better than I even dared to hope for.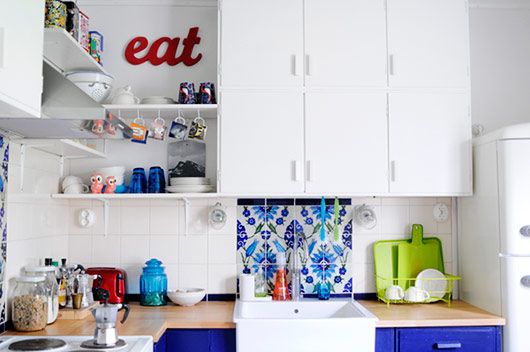 decor8: What do you want to change about your space? Jutta: I wish there was more of it! I'd love to have a proper place to work. In 10 years time my dream is we've built a garage with an artist's studio, with light flooding in from huge north-facing windows.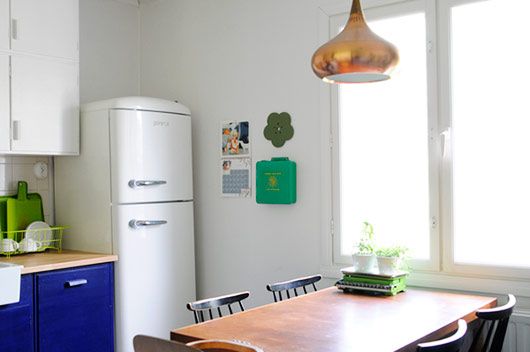 decor8: Tell us about the inspiration behind your current decorating scheme... Jutta: I think it was Yvonne from Yvestown who said her house tells her what to do. I feel the same. I listen to the house and it tells me what works for it and what doesn't. I think that it's important to respect the history of the house. Built in the 1940's and 1950's when they were rebuilding the country after war, these houses used to be modest. So no matter how much I'd like myself some decorative bling bling, I have to keep in line with the house's character. But of course a little kitsch is always welcome. Other than that it's a compromise between my and my husband's taste. Not too sweet, not too industrial.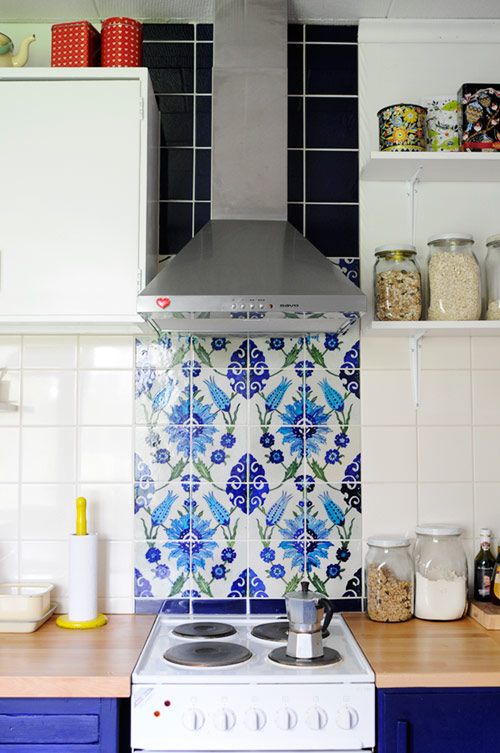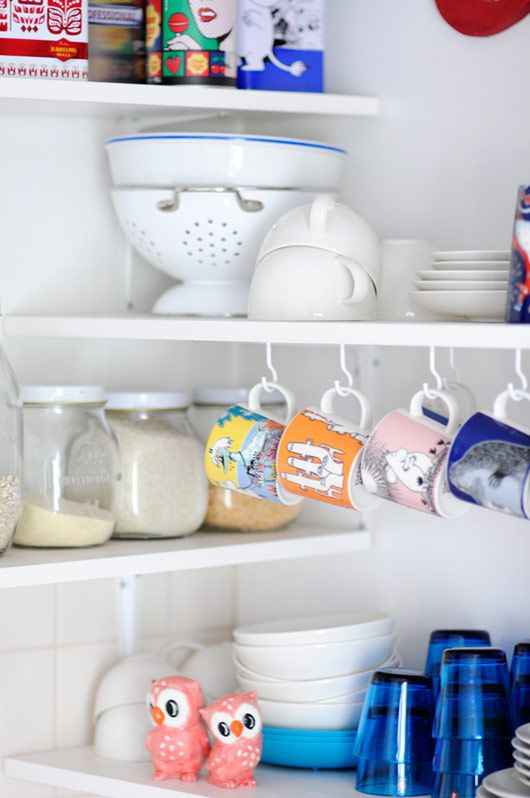 decor8: What do you think makes a house a home? Jutta: Tough one. I've lived years in houses that never felt like home and only months in one that immediately did. It's just a feeling that you get. When we were house-hunting for this house for example, I knew this was our home the moment we stepped in and saw the porch. Now that I think about it, what's in common with all the places that right away felt like home is that they were all built in the 40's or 50's. Maybe that's where my inner home is. Ha ha if that makes any sense. After years of renovating though our house is becoming more and more us. It's transforming into the vision I had in the beginning.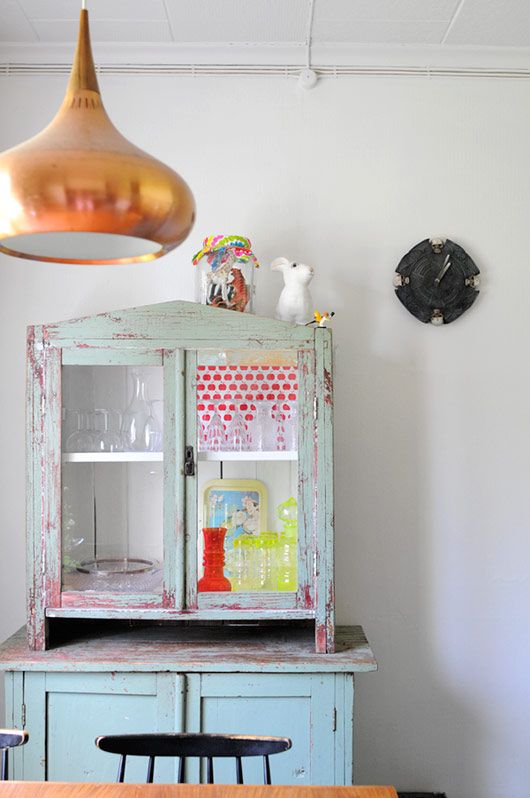 What a fun peek into your home Jutta, thank you for visiting us today on decor8 and sharing your ideas and advice with all of us!
(images: jutta rikola)