Yummy Gingerbread Snack Cake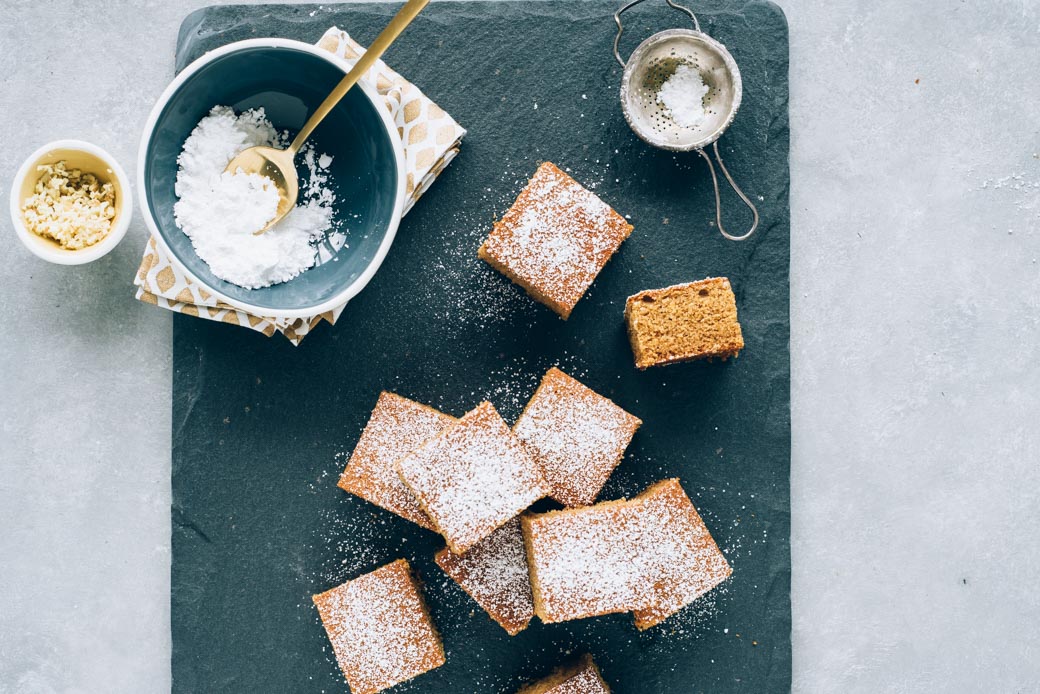 Well hello decor8 readers! Allow me to introduce myself. My name is Rachel Korinek and I'm a professional food photographer from Melbourne, Australia. I run a blog called Two Loves Studio, a space where you can come hungry and leave inspired with a new perspective on your passions. I feel really excited and humbled to be able to share this column with you for 2016! I am sure many of you share my 'two loves', food and photography.
To kick start this year's column I am sharing with you a Gingerbread Snack Cake, but first a little bit about me. I am a self-taught freelance food photographer currently living in Melbourne. I love the outdoors, hiking and camping in national parks, I've studied business and education and have been lucky enough to have travelled the world. I love Asian food and can't get enough of dishes that call for homemade broths. Over the past few years of sharing my journey into food and photography on Two Loves Studio, I've made invaluable and unexpected friendships with other passionate creative and readers alike. I am eager to get to know all of you and my aim is to inspire you to live a life you love, what ever that may entail!
Being aware of the seasonal differences between hemispheres and that Australia is out of sync with the vast majority of the world's population, my aim is to give you recipes that can span multiples seasons without missing out sharing my favorite creations that use much anticipated seasonal produce. Despite the seasons, good food enjoyed with loved ones is what is most important.
I have just spent a month in Canada with my husband's family for the holidays and made a point of heading to the grocery store to check out what was available during the winter for this column. I was totally surprised by the availability of summer produce that gets shipped up from the warmer countries around the Caribbean region. It is perhaps a little alarming at the amount of food that we ship around the globe to ensure we can always have produce that would normally be out of season. There is a big trend in Melbourne of supporting locally grown produce and sustainable businesses. Being a food photographer, this isn't always possible, as you have to adhere to what a client needs for a recipe to be shot, but for my personal consumption of food – I try to shop local where I can.
Now onto the recipe. With the holidays and endless hours of prepping and cooking delicious food long behind us, I'm sure many of us are longing for an enjoyable yet simple recipe to share next time we get together with family and friends. This may also be a nice treat for your Easter table?
I am a total advocate for ginger. I am always pushing for it to be included in our dinner dishes, much to the debate of my husband Matt. "Mmmm, I don't think that goes together" he'll often say, (I won't get into who's right or wrong!). I feel like my ginger tolerance is like that of chilli. It builds up over time and I need more and more. Don't however be alarmed by the amount of ginger in this recipe. You want to be able to taste it right? It is also totally fine to halve the amount of ground ginger if you're not its number one fan.
Ginger is such a versatile ingredient. It can warm us up on cold days, yet refresh us on not ones, help us when our tummies are upset and when our body is suffering from inflammation and pain.
INGREDIANTS
1/2 cup pain, all purpose flour 1 1/2 tablespoons ground ginger 1 teaspoon allspice 1/2 teaspoon baking powder 1 teaspoon salt 1/2 cup boiling water 1/2 teaspoon baking soda 1 tablespoon ginger, finely minced 110g butter, chopped 1/2 cup brown sugar 1/4 cup golden syrup or molasses 1/4 cup maple syrup 1 teaspoon vanilla bean paste or vanilla extract 1/2 teaspoon orange zest (optional) 1 free range egg
Icing sugar to dust
DIRECTIONS Preheat the oven to 180 C/ 350 F. Grease and line a 20cm x 20cm (9" x 9") cake tin. In a small bowl, add baking soda and boiling water and stir. Once combined, add finely diced ginger. Set aside. In a large bowl, sift together flour, ground ginger, allspice, baking powder. Add salt and mix until combined. Set aside.
Using an electric mixer, cream butter and sugar together. Add both syrups, vanilla, orange zest and baking soda mixture and beat until fully incorporated. Slowly add the flour /dry ingredients into the mixture and beat until fully combined. Add in the egg and continue to beat until the egg is incorporated.
Pour the mixture into the prepared tin and bake for 30 minutes or until lightly golden and the cake is bounces back at the touch. Remove and allow to cool.
With a sharp knife, trim the edges of the cake and slice evenly into small serving squares. Dust with icing sugar and serve.
NOTE: This cake is best served in small bit sized squares, and can make an impressive stack dusted with icing sugar. Accompanied with a cup of tea in one hand or a gin and tonic in the other.
This is NOT a sponsored post but we do want to thank West Elm for supplying the serve ware. The gorgeous colors of slate and gold go perfectly with the warm tones of the gingerbread. Shop list: Coloured Glaze Pinch Bowls, Coloured Glaze Prep Bowls, Raw Wood Boards, Scrape Serveware, Gold Flateware Set, Ikat Mini Lattice Napkin Set and Slate Placement.
See you next month, decor8 readers - Rachel.
(Photography, Styling and Text: Rachel, Two Loves Studio.)