Healthy Poached Pears Recipe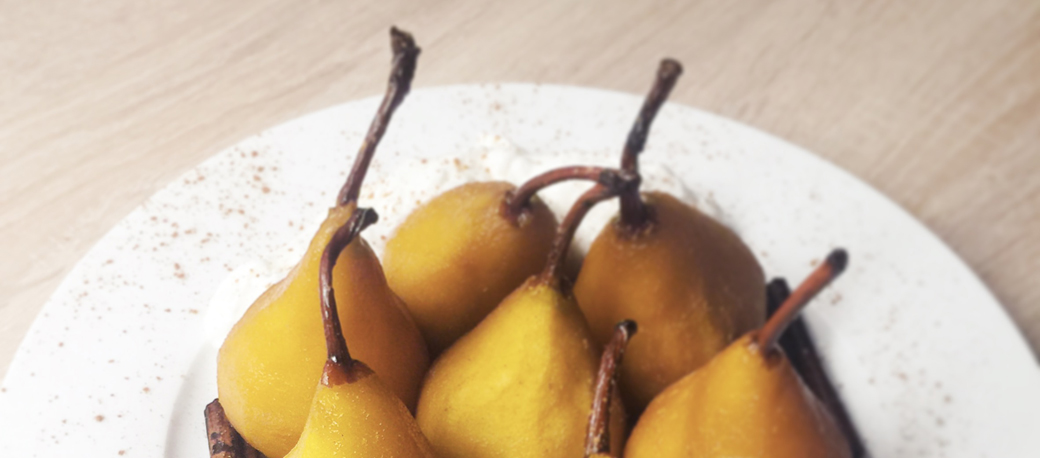 Hi friends! I hope that you had a wonderful Easter. Since most of you are suffering from a chocolate hangover, I thought today I'd post something healthy and somewhat sweet that doesn't involve chocolate or a lot of calories. In fact, you can make a very low calorie version of this, and it is completely gluten-free. By the way, I don't contribute food columns on decor8 because decorating is definitely more my thing, but this past weekend my friend Esra came over and surprised me with poached pears for dessert and I can't stop thinking about them! They were so good and so easy to make! I woke up this morning and just had to share the recipe with you. I took this photo of the poached pears at night on my iPhone, so it's not the quality of photography and styling you are accustomed to here on decor8 but oh well.... It's too lovely of a recipe to pass by! Anyway, here is the recipe from my dear friend Esra Celik.
YOU WILL NEED: Mulberry or Grape Syrup (enough to yield 3 cups) 7 Bosc pears 3 cinnamon sticks 5 cloves
TOPPING whipped cream or vanilla ice cream ground cinnamon honey (drizzle)
Boil 3 cups of mulberry syrup (or grape syrup) with 1 cup of water, 3 cinnamon sticks and 5 cloves. Peel your pears, but leave the stems on. Place the peeled pears into the pot and cook them for 45 minutes at low temperature. Take the pears out of the pot and let them cool. Serve with whipped cream or ice cream and drizzle with honey if you'd like. You can also sprinkle ground cinnamon on top for additional flavor and to make it look pretty!
To plate: Add a bed of whipped cream to a white plate, place two pears on top, and drizzle pears with honey, top with ground cinnamon, letting some fall on the plate around the edges of the whipped cream.
(Recipe: Esra Celik, Photo/Text: Holly Becker)