Refreshing Your Home: 8 Tips
I've talked about this a few times before, but these tips never go out of style or season because they're timeless tricks that decorator's everywhere turn to whenever a client asks them to help refresh their space. Okay, perhaps not all of them but you've stepped into my world for a moment so let me tell you how I personally refresh my home to kick start the new year. The rollercoaster ride, er holiday season, has ended (whew!) and life is s l o w l y getting back to normal (it's like trudging slowly over wet sand, huh?) the decorations are coming down and most are left with a house that feels rather, well, un-festive like. Maybe even depressing. Perhaps a bit naked? Well that's not a bad thing because now you can start on a clean slate. Here are some new year's ideas for freshening up your space.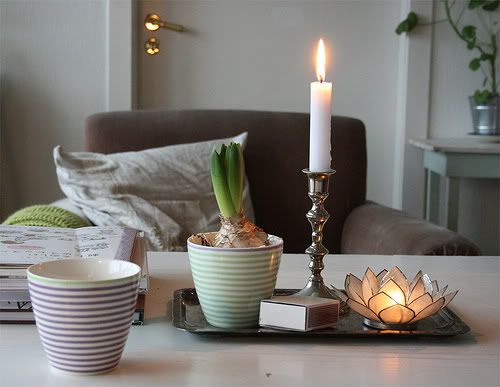 (image: haust)
1. Bring in some fresh flowers and starting forcing those bulbs. That's a big thing here anyway, bulbs galore in every store. I have to get started on that myself, but I picked up two tone tulips in pink and white already in bloom, which look really nice as they typically remind me of spring and the guarantee that winter will eventually end! Though don't get me wrong, I'm enjoying winter very much thanks to all the cozy elements in my home that make me feel comfortable and happy. Winter isn't half as bad when you stop thinking about warm weather and enjoy what you have, right? That's the idea of this post, I want to help you to enjoy more of this moment as we all tend to concentrate too much on what we don't have instead of what we do, right? If tulips aren't your thing, try buying some succulents and make a terrarium (here's a helpful how-to or have a look at mine here), go to your local florist and see what grabs your attention. And when you bring your little blooms home, arrange them with care so that you are also experiencing the moment of (sorry I'm about to get weird on you) touching and smelling and feeling them as you carefully snip and create a pretty little arrangement. I personally love that moment when I'm standing over the sink unwrapping my flowers, thinking of nothing more that what is happening in that space and time. It's relaxing, and if you love classical music, put some on and hum along as you create. I find piano very relaxing so I play a lot of Yann Tiersen. Look him up, you'll be surprised to see what lovely film he composed a soundtrack for. If that doesn't get you in the mood to arrange flowers nothing will!
2. Warm it up! Since in my part of the world, it's cold outside, I try to warm things up a bit with candles. I tend to use more tapers and tea lights, simply because I burn through so many and their often the cheapest to buy, but pillars and scented candles are equally nice. I have them on my windowsills, table, coffee table and in the bathroom for relaxing soaks. I group 3 tapers and 2 pillars on my coffee table and several tea lights on a shelf behind my sofa. It gets dark here around 3:30 each day, so the candles are aglow around that time to make the transition from day to night less painful. I also like to put candles in front of a small mirror like this, which is on the windowsill in my bedroom as it doubles the glow and looks really pretty. Remember, I grew up in a resort area on the beach with plenty of sunshine year round which means I'm not naturally a northern "cold weather" person. I had to learn to like winter, trust me.
(image: elena)
3. Make paper snowflakes, create a new wreath for winter, leave the white twinkle lights up (just hang them over the bookcase, over your bed, or along the fireplace mantle vs. on the tree which you've no doubt removed by now). Just because the holidays are over doesn't mean you cannot still celebrate the winter season. Try wrapping your candles in pretty paper shown above. Yes you can wear white after Labor Day and yes you can leave your twinkle lights up until Spring or even later if that's your thing. Who cares what people say, start your own traditions because we're not put on earth to do things only one way and follow the masses. Can I get an amen?! I once had twinkle lights in a massive glass vase on top of my bookcase and left it as a light source year round. Hey, I was single and broke, it was the cheapest light I could make using things I already had, and it turned out to be a hit -- my guests, and I, loved it. You can even still use your ornaments, just in fresh new ways. I wrote about this recently over at Real Simple, perhaps you'd like to check out my tips and photos there for a little inspiration?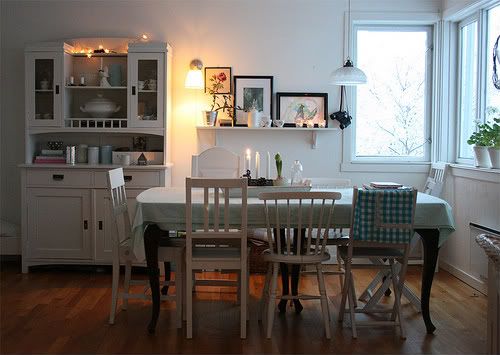 (image: haust)
4. Drag out your cd collection and play some music you've not listened to in a long time, music that uplifts and makes you feel positive and energetic since energy is a big thing we're all in need of right about now, right? I just took out my Amy Seeley cd. Lovely, lovely. I've missed you, Amy. I haven't listened to her since last April before my relocation madness began. Great winter music.
5. Break a sweat. Grab a pilates, yoga, or any other fitness DVD and move your butt. Nothing makes you feel better post-holidays than exercise and if it's too cold to go outdoors then move it! move it! indoors. I like to move it! I love to move it! Do you like to, move it? Ha ha. We also tend to like our homes more and complain less about the weather when we exercise regularly because it puts us into a more positive frame of mind. If you don't want to exercise to a video, think of other options, like a fitness ball or weights. Or, try exercising the old-fashioned way and take a weekend to thorough clean and organize your home. Which reminds me, I need to practice what I preach and go organize my entryway, it's mitten and boot chaos out there.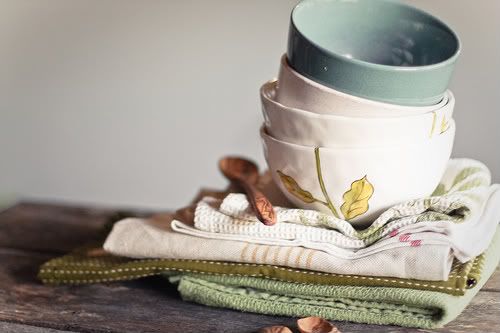 (image: hannah honey + jam)
6. Edit! Winter is a good time to photograph your space, look at the photos four hundred times over, and consider what works and what doesn't work. And start editing from there. Edit, edit, edit! Do you really need 3 throws in your living room and that snuggie blanket from your mother-in-law? Maybe you can keep 2 and store 2 or donate them to those in need. Are 8 pillows on your bed a bit much? Is your linen closet bursting from the seams with 50 towels, some you've had since college? Maybe it's time to simplify because there is a lot more time and energy involved in maintaining lots of things vs. less. Clean out your china cabinet while you're at it, too. If you need some help editing your space and organizing your home, get a jump start on spring cleaning with Erin Doland's book, Unclutter Your Life In One Week. She's a peer of mine over at Real Simple and her book is both practical and very helpful.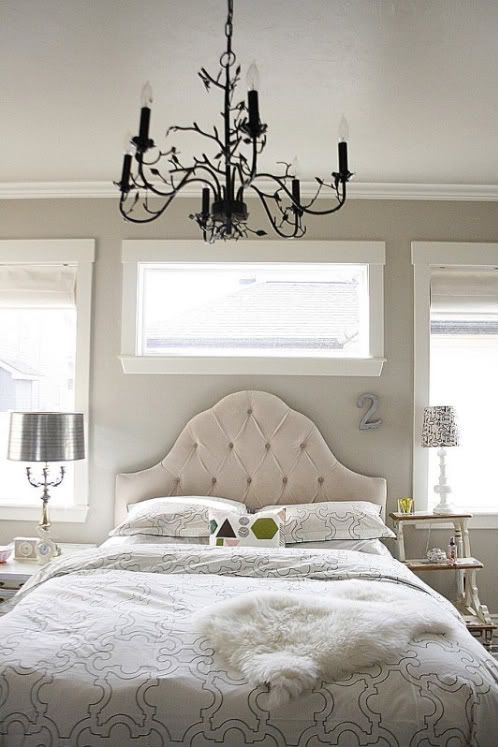 (image:simply grove)
7. Move things around. Maybe your pendant over the dining room table would look better in the bedroom? That's what decorator/blogger Kirsten Grove from Simply Grove thought anyway and viola! she painted her dining room fixture glossy black and hung it over her bed. Fabulous. I also love the throw on the bed, it really warms up her bedroom for winter. Try that too, you can grab those pretty throws at IKEA, here some use them on their dining room chairs and even on the sofa. Talk about cozy! And you know why moving things around is so smart? Because chances are you are home a little more than you will be when the weather warms up so it's the perfect time to shuffle things around - who wants to decorate when the beach is calling your name? So move the sofa, move the chairs, swap out your current prints for other ones (even fabric or wallpaper can be framed and used as art), move it baby, go go go!
8. And... if all else fails, there is always hot cocoa. :)
How are your refreshing your home this month? Share your tips, link to your photos, share, share, share!!! :)
(images: credits linked below each.)