Etsy Take Five Tuesday
Hello Friends it is Leslie here for Etsy Take Five Tuesday. I am filling in for Holly while she is busy traveling and working on her book. I just know her book is going to be an incredible collection of inspiration and I cannot wait to read it! Today I could not narrow it down to five. Instead, here are twelve finds from eight different Etsy shops that will be a delight for you to visit. I have had blues and greens on my mind but each shop has loads of colors for you. I really hope that you enjoy it!
1. Handmade Modern Baby Quilt made by Blue Elephant Stitch. A wonderful shower gift for someone special and I must say I just love the product photograph –really brilliant. 2. Poolside Limesicle Cushion made by birds in chandeliers. I really want this pillow! I love her attention to details, which you can see better when you visit her shop. 3. Vintage Mid Century China Dinner Plates at seesaw vintage finds. These have a nice pattern and would be easy to mix and match with other blue toned plates. 4. Vintage Mod Flower Serving Tray at seesaw vintage finds. I love how graphic this tray is! It would look great in the middle of a dining table all the time or on the wall.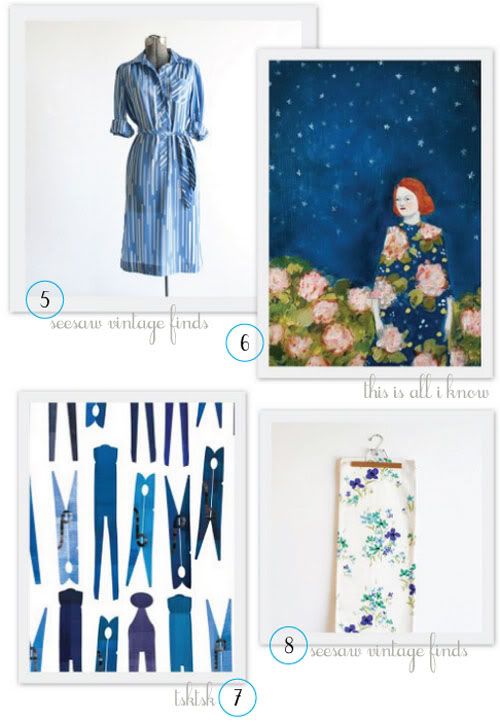 5. Vintage Blue Patterned Lines Dress at seesaw vintage finds. This shirt style dress is cute for summer and looks easy to hem if you want to wear it shorter or over jeans or leggings. 6. Original painting on birch panel –"sophie was a part of everything" by this is all I know (Amanda Blake). I enjoyed browsing through the incredible work by Amanda who works out of Portland, Oregon. 7. Limited Edition Giclee Print – "days a week in blue" by tsktsk. This print is also available in an earth toned palette. 8. Vintage Floral Fabric at seesaw vintage finds. A gorgeous, almost two yard piece of medium weight cotton that could be used for a cushion or whatever creative project you can imagine!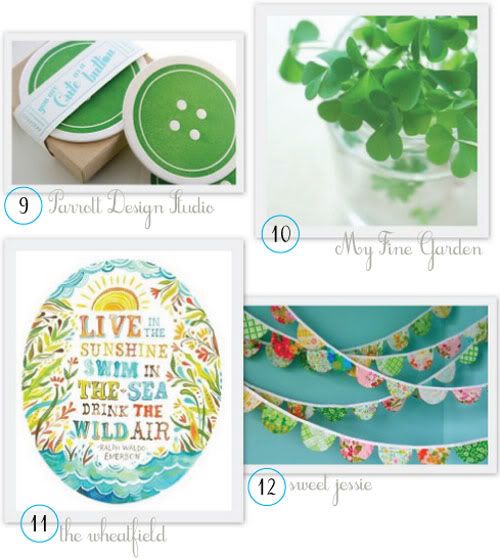 9. Button Letterpress Coaster set of 8 by Parrott Design Studio. These cute coasters are letterpressed by hand and would make an excellent hostess gift or present for someone special. They even come in a cute box! 10. Fine Art Photograph -"Lucky" by My Fine Garden. I am a fan of Shanon's work and this photo is just so sweet. 11. Print - "Wild Air" by the wheatfield (Katie Lombardo). I love how she illustrated this quote in watercolor her work/shop is really uplifting. 12. Vintage Scalloped Garland made by sweet jessie. These cheery garlands are made from vintage sheets and would make a great shower gift along with Shanon's "Lucky" or Katie's "Wild Air" print. I could also see these garlands hung outside for a festive summer gathering.
(images linked to their sources above)