The Lovely Home of Lark
I really like all of the decorating ideas that can be found in the charming cottage of shop owner and designer Allison Jones who lives in the countryside near Melbourne, Australia. Allison owns the Lark shop, are you familiar with it? You may remember Lark because I shared a special tour of her store in Daylesford when it first opened. Let's examine some of her clever decorating ideas for a moment, shall we? Do you have time? I hope so... there are many to examine!
Storage lockers in a bold color as storage for a dining room.
"I live in a pretty country town in the forest near Melbourne, Australia, with Paul and our kids. Besides mum & dad duties and trying to patch up our old cottage, we also run Lark, a craft and design company I started four years ago whilst living in the UK, which is where I grew up. I am obsessive about vintage design and illustration - 1930s advertising, old shops, vintage children's books, travel posters, 1950s fabrics, Ladybird books, old postcards and greeting cards, vintage wallpapers, and I have lots of little collections."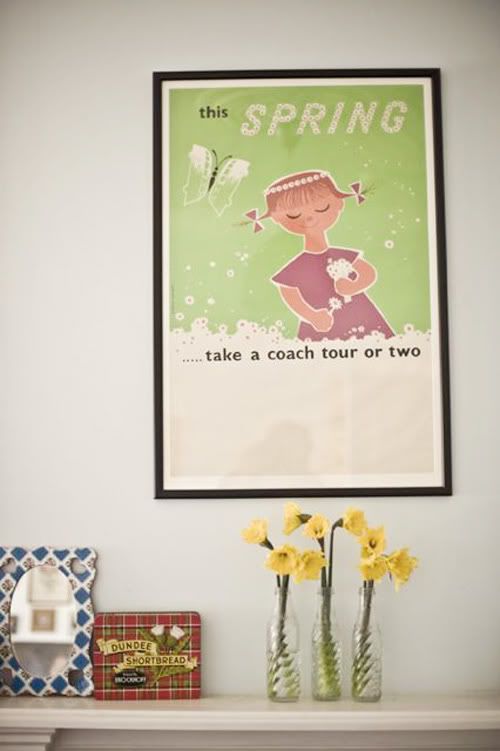 A vintage poster adds color over a fireplace, and a few daffodils in old bottles (sans labels) adds color and interest to this display.
Vintage wallpaper applied to the wall in a patchwork style, some crochet doilies hung on the wall, an old school chart on the wall with a giant number leaning against the wall, a fireplace in the kid's room with his name displayed above...
Something as simple as old rolls of wallpaper stored in a wooden crate can add so much charm to a corner. It's a great idea to keep the things that inspire you and your creative ideas out in the open so you use them more frequently.
Shelving in a boy's room with a sweet faux leather suitcase on top, retro tea cups and saucers displayed on a cabinet, an old needlepoint of a windmill coupled with books on European art and design give this corner an old world feel, a bunch of framed scraps of old wallpaper -- perhaps these would look pretty on your wall?
Red stools give this kitchen some heat against the cool blue walls, the old black typewriter with spicy coral and fresh green is bold and works together nicely, grandmother's quilt works on the seat of a cozy chair for afternoons reading your favorite book, a grouping of art centered above a sideboard.
You can really see that Allison's home closely reflects her personality and interests. It's a beautiful thing to behold -- homes that feel genuine and mirror the people living there. It's the greatest feeling to not only get your home to the point to where it looks and feels like you, but also to live in a space that is so personal as much as this one. Home is the one place where you can really let your spirit and creative passion go free so why not decorate with passion and authenticity?
(Photography: Rohan Anderson.)