Interior Styling Favorites
Good morning friends and happy new week to you! Guess what? My UK publisher will host a press conference for me in London in just two weeks, I just saw the official invitation this morning and am quite excited and very nervous -- shaky knees for sure! :) I heard that some journalists and bloggers will be there to talk about Decorate and to view the book in person, which releases in the UK during the same week as my birthday in March. Oh my goodness you guys, what will I wear!?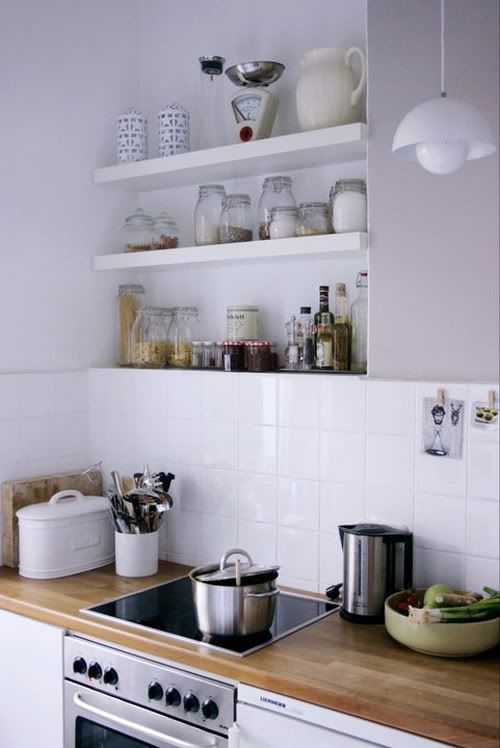 I'm very excited to see the book in two weeks myself -- I keep wondering what it will feel like to hold it in my hands and flip the pages... I've been reading decorating books since I was a child so it's still a very surreal feeling for me to have my own book and I am feeling very emotional about it. Lots of my friends tell me to "work it" and "have fun" and all I want to do is praise all of you for making this happy because I'm smart enough to know that it is through your support that I got a book deal in the first place. It's such an honor for me to create a book for you, and when I have a copy I will make sure to give you a preview in a few weeks. Speaking of decorating...
I thought that it would be fun to share a few photos from my Interior Styling group on Flickr each Monday, a few highlights along with some links to Flickr members that you may or may not follow yet. The reason I selected Monday for this is because at the dawn of a new week lots of us need inspiration and ideas to carry us through the work week.
The Interior Styling group on Flickr has some lovely images submitted by members of the group and so there are always lots of photos to enjoy of real homes decorated by people all over the world who just love to decorate and possess a real knack for it. I curate the group to ensure a cohesive look and feel and to make sure that no odd submissions leak through (I sort through plenty of questionable content that's for sure) so you can be sure that the images will be inspiring and diverse to fit many tastes. Members of this group also know that if they submit their photo to the group that I just may use it on decor8 because good work needs to be shared!
Pops of red and yellow with white and gray... Top left: Lillian Day knows that a little bit goes a long way. |  Top right: i l'aria brightens up her white bedding with a vibrant patchwork quilt and colorful crochet pillow cover giving this room a handmade feel. |  Bottom left: Nest decorating adds a bold floor rug to her kitchen making it a strong focal point in her Vermont farmhouse.  |  Bottom right: maedchen style lifts a mostly neutral palette with shots of country red in checks, dots and stripes.
Gorgeous workspace that looks soooo inspiring by ishtar olivera in Spain.
Super organized and a beautiful, nature-inspired theme by Dora iz Londona.
Top left: ninaaribena1 mixes several bold black and white patterns (a risk) but placement and scale is key and she gets it right. |  Top right:  i l'aria makes a crochet lampshade to give her otherwise pastel decor some energy which is always nice in winter months.  |  Bottom left: ish & chi is never afraid to take a risk. She is a very courageous women in more ways than one. Vivian, you go girl! |  Bottom right: Ninaribena1 painted her front door with black and white stripes for a bold, graphic statement. You can really have fun in small rooms like this so why not mix and match?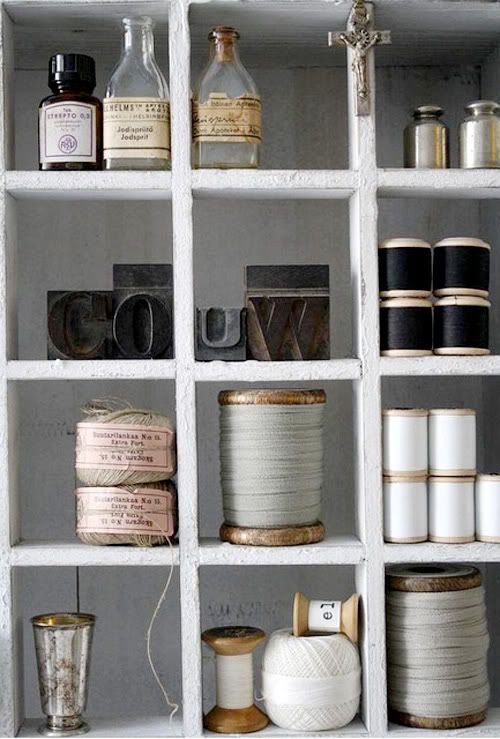 Elsa's shelf of vintage and vintage-inspired notions makes me smile and feel creative just by looking at it. Isn't this how it is sometimes? Even when we do nothing with our little crafty bits, it still makes us feel more creative just by collecting them and having a few around to jump start our creativity now and then... Plus lots of crafty things look extremely sweet when used as decoration in the home, don't they?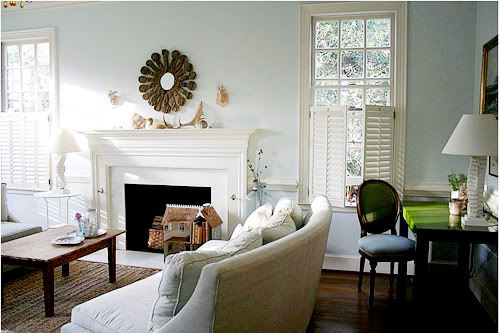 This living space by lakbdesign is so inviting in blue tones and tactile elements (wood sculpture above fireplace, coffee table and natural sisal rug) but surprise, there is a gorgeous lime green table in the corner to introduce playfulness to this otherwise sophisticate decor. This look is very relaxing and inviting. The curved armless sofa is divine.
Look for "Interior Styling Favorites" each and every Monday on decor8 going forward where I'll pick my weekly faves from the group and share right here. Enjoy!
(images: linked to their sources beneath each image above.)