Anthropologie + Travel Inspired
Hello Friends, it is Leslie here with Color Me Pretty for April. This time around I cannot stop thinking about travel and cafes. No, they are not colors but since I just came back from a quick trip to London and Copenhagen I find myself dreaming about the cafes I visited and where I may go next.
Yes, the travel bug was caught quite severely and that is why this image from Anthropologie became my source of inspiration for this month's Color Me Pretty. By looking at this picture, I was transported to an Italian café. This gorgeous photo shoot, which took place at Caffé Roma Pastry on Broome Street in New York, inspired me in a fury to create something in a similar palette for you.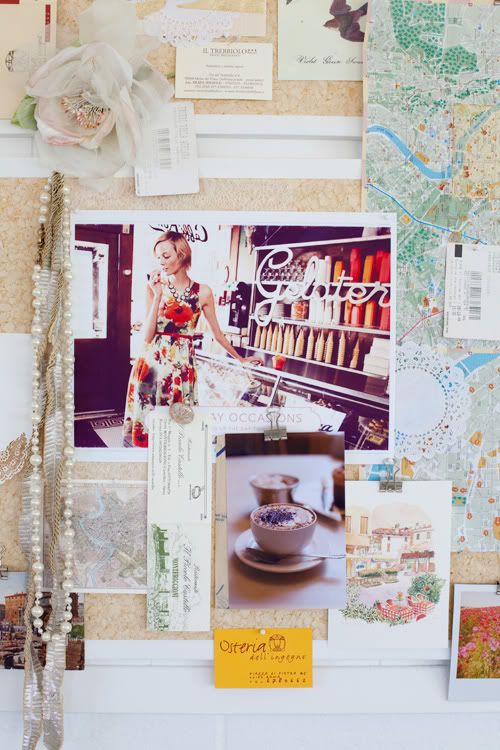 Splashes of dark tangerine, gold, sap green and Prussian blue mixed with light tan and milky coffee. This is a pretty palette for summer fashion, entertaining or decorating.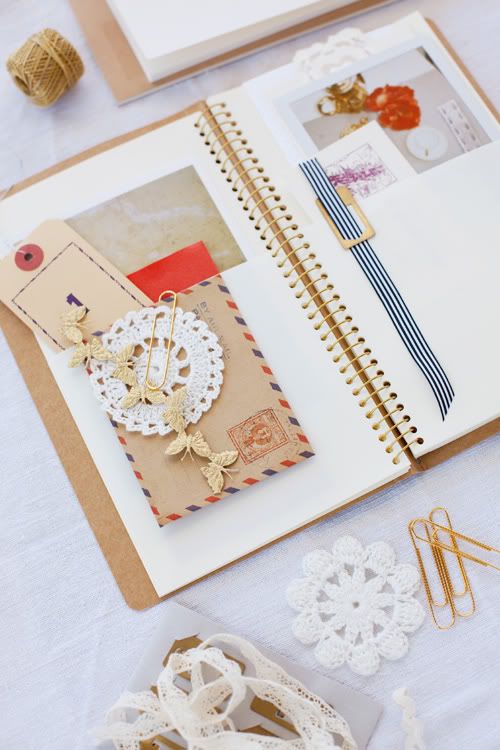 I printed out and pinned the first Anthropologie image from the set on my tack board and then created a mood board around the image. I grabbed old cards and tickets I had collected during my last trip to Rome, along with some post cards and my own photos. I tend to keep little bits of paper from wherever I go. Do you do this? I just love looking at business cards of where I have eaten or ticket stubs from an incredible site I have seen. I keep many of these bits and pieces in an archival box on my shelf or in journals I made upon return home.
Since Caffe Roma appears to serve some fine looking gelato I started thinking about ice cream, then, ice cream dishes and how they may make fun low floral vases for entertaining. I experimented with some little bouquets and the ice cream dishes worked well as they keep the flowers low enough to have a conversation over. You can find sundae, sorbet and ice cream dishes at restaurant supply stores online like this one.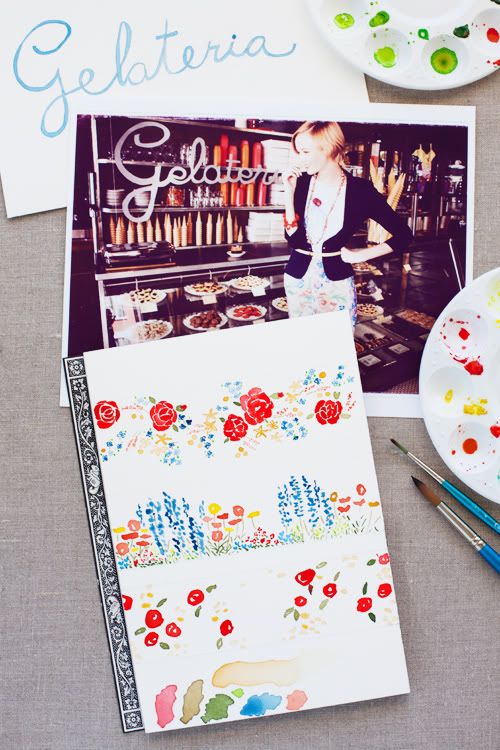 I couldn't help but doodle some watercolor flowers after looking at the fabulous En Plein Air Dress and Gladiolus Skirt featured in the photographs. The gestural floral patterns used in these two pieces have me thinking about borders for cards or patterns I could use in some other crafts. I also love bringing bold floral patterns into my home as accents and these two fashion items have my wheels turning.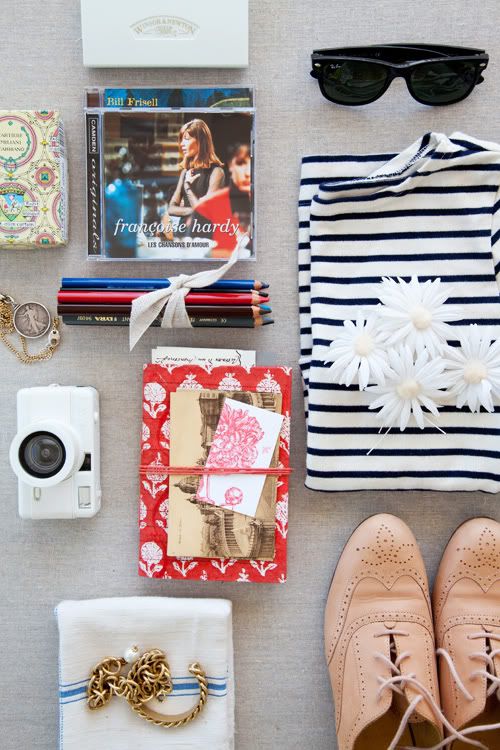 It is really fun to take a virtual trip somewhere and let it inspire some fresh creative ideas. Thank you for joining me here today on my little journey helped along greatly by the styling work and photography by the brilliant folks at Anthropologie.
See you back here next month, Leslie
(images: leslie shewring)